Quilt Kit Collaboration with Hoffman Fabrics
Jeanie's latest project combines her technical skills with her passion for quilting to create this beautifully intricate kaleidoscope quilt. With Hoffman Fabrics' Sew Into It kit, all of the cutting work is already done, leaving the fun part for you. The kit includes over 200 pieces, precision cut and ready to sew. Even better, there are no templates, no paper piecing, no math, no 'Y' seams, and no cut-off points.
Made from the Hoffman Bali Watercolor 1895 batiks, the laser-cut pieces include registration marks to eliminate guesswork. With perfect directions and notches to guide you along the way, you are sure to end up with perfect points and a jaw-dropping quilt. The finished quilt size is 90 inches square (queen), but can be enlarged to a king size quilt by adding an 8-inch border.
Click here to watch a video from the introduction in Houston (courtesy of The Quilt Show)
Kits come in two colorways:
Crystal Clear (JAKIT 176-Ice)
Crystal Blue (JAKIT 230-Sapphire)
For availability in your area, please contact your local quilt shop or check online for retailers (we do not sell these kits directly).
Now Available: Blossoms Embroidery Collection
The Blossoms Embroidery Collection is the latest in our series of embroidery products. It contains sixty machine embroidery designs that exactly match the template shapes found in the Blossoms Template Pack for Kaleidoscope Kreator 3.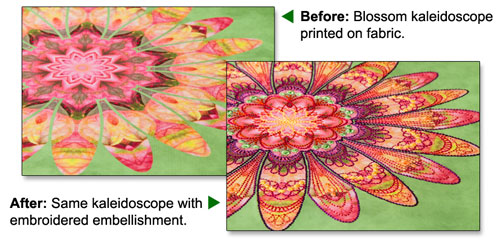 Click here to watch a video from the Blossoms introduction in Houston (courtesy of The Quilt Show)