KK 2.0 Maintenance Update
To determine whether this update applies to your copy of Kaleidoscope Kreator 2.0, select Help->About Kaleidoscope Kreator from the KK 2.0 menu bar, and look for the Build number.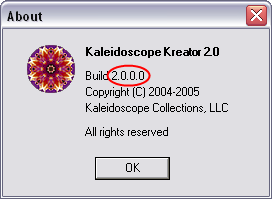 If the number shown is 2.0.0.0, then you can download and install this maintenance update to get the latest fixes.
If the build number is 2.0.1.0 or higher, then you do not need to install this maintenance update - your copy of Kaleidoscope Kreator 2.0 already contains all available fixes.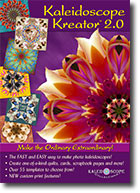 Maintenance Update for Kaleidoscope Kreator 2.0
[Release 2.0.1 - August 2006]
This free maintenance update only applies to very early versions of Kaleidoscope Kreator 2.0, and includes a number of performance improvements and fixes to known problems.
How do I know if I need this update?
Important: If you haven't yet entered your license key to unlock your purchased copy of Kaleidoscope Kreator 2.0, you must do it now before proceeding. Do not install this update without unlocking Kaleidoscope Kreator 2.0 first.
Unauthorized reproduction, sharing or redistribution of this software is strictly prohibited.